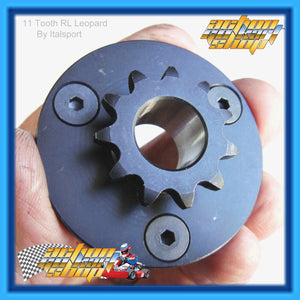 10 or 11 TOOTH LEOPARD & CHEETAH ENGINE CLUTCH SPROCKET THREE HOLE
GO KART 10, 11  TOOTH LEOPARD CLUTCH SPROCKET
The 11 Tooth for RL Leopard Engines is the DEFAULT sprocket posted without your other size indication.
In other words is you Leopard engine sprocket in need of replacing.

We have them and chains to suit.

The THREE replacement screws are included with each sprocket

We supply these to our customers worldwide.

So no matter where you are located I will GUARANTEE we can get these there.

Our RL Leopard sprockets are precision machined,...... then they are case hardened and ground to the worlds best quality standard.

This ensures that you will be delighted with the life span of this excellent product.