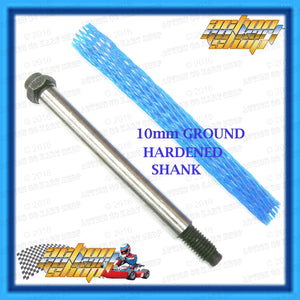 10MM KING PIN ARROW X1 - X5 M4-M3, GP8 BMAX AMAX BIGBOY 125/80 NEW
Go Kart King Pin 10mm
These are sold as a single item.
That means they are offered here as an each item price.
A high quality 10mm pin.
Suitable for a close sliding fit on your stub axle bearing with a 10mm hole.
Delivered to you in a Blue protective sleeve to prevent any damage.
SPECIFICATION
Diameter - 10mm
Length including thread - 110mm
Hexagon Head - 13mm Socket