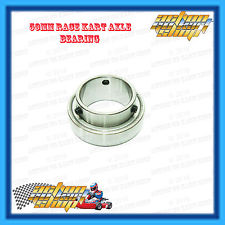 50MM FREESPIN AXLE BEARING 80mm OUTSIDE FITS 40 - 50mm BEARING CARRIER
GO KART 50MM FREESPIN AXLE BEARING 80mm OUTSIDE FITS 40 - 50mm BEARING CARRIER
MADE FOR UBC IN THE HI TECH FAG FACTORY WITH THE STRICTEST QUALITY CONTROL
YOU CHOOSE HOW MANY YOU WANT ALWAYS AVAILABLE HERE 24-7
Do YOU want a perfectly FREE spinning axle? You will get it here. 

This means that this very low fiction bearing make this the best choice for your kart axle.

Precision ground bearings made specially for Kart Racing.

They are not a converted engineering bearing just supplied as a general use product. 

Do you want the best quality control and highest standard materials, we have both in this bearing.

These bearings will fit ALL karts using a 50 mm Diameter Axle in a 40mm bearing carrier.

I have used this bearing in many different go kart brands like OTK, CRG, Arrow and have found that they are the best.

You can even have us install them to GUARANTEE their performance.

These bearings will meet or exceed your expectations, I personally guarantee this.
AXLE BEARING MEASUREMENTS ARE 50mm ID x 80mm OD 
AND
 18mm WIDE OUTER RING