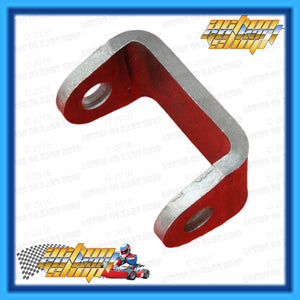 8MM KING PIN C SECTION CHASSIS BUILDER'S STUB AXLE WELD ON FIXTURE
GO KART 8MM KING PIN C SECTION CHASSIS BUILDER'S STUB AXLE WELD ON FIXTURE
This metal piece is made to allow for setting up the front end steering on a fun kart, bush buggy or repairs to a badly damaged racing kart. It includes two 12mm holes to take a 8mm or 10mm insert bush. These are commonly used on many racing go karts.
SUITABLE FOR HOME BUILDERS AND HOBBY KART OR BUGGY DESIGNERS
Please be assured that if you buy this item there will be everything else available to complete a full steering assembly for your project. 

Just email me and ask for anything else to fit straight up to these units
Material Thickness = 6mm
Height Inside C    = 48mm
Width across Back = 40mm
Distance Back to Front of Rad. = 40mm
From Back to hole centre = 25mm
Overall Height = 60mm