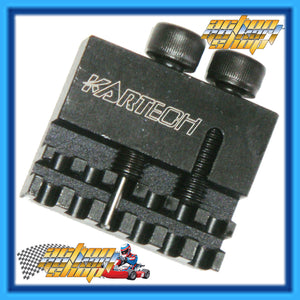 CHAIN BREAKER JOINER 219 RACING PITCH HIGHTEST QUALITY KARTECH BRAND
GO KART CHAIN BREAKER JOINER 219 RACING PITCH HIGHTEST QUALITY KARTECH BRAND
Not only can this break a chain, but it will also rejoin them!

So this means that you can have a chain with the perfect length to suit any sprocket every time you race.

It is made by Kartech ....so you know it is the best quality.

And that only means you get a tried and proven tool with years of testing and development .

Do you need this quality Chain Breaker in your tool box as a standby on practice day when the kart shop is closed?

Because if you have traveled all the way to the track and damage a chain in the first practice. Turn around and go home when you can't find another suitable chain.........that is the right length.
BETTER FIX THIS PROBLEM RIGHT NOW. BUY YOU SOLUTION HERE and I WILL SEND IT STRAIGHT TO YOU THIS VERY DAY.