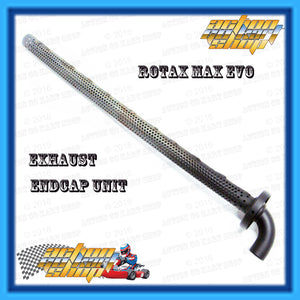 EVO END CAP ROTAX MAX 125CC & PERFORATED TUBE ENDCAP
Go Kart ROTAX MAX 125cc EVO 

SILENCER 
PERFORATED TUBE & END CAP
Has your Rotax Max Pipe the need for a new Endcap Tube?
 Is it rattling or sounds louder than before?
 It is known that this perforated tube will wear our or break in half with long time use.
Here we have on offer a brand new Genuine Rotax Evo model part. 
This End Cap is the part supplied by Rotax as a replacement part in your original exhaust system.
They are easy to fit.
Just drill out the three original rivets or unscrew the three bolts used to replace original rivets and slide out the tube and silencer packing. Most repairers would replace the packing mat if the tube is damaged.
In this unit the perforated tube is 26mm outside and 49cm long. 
The end section is 62mm diameter.
Length = 50cm
O.D. Perforated Tube = 26mm
Material = Mild Steel