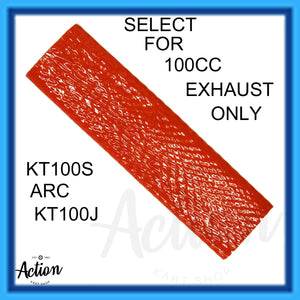 GO KART 100CC EXHAUST SEALER FLEX SLEEVE SILICONE 45MM UNIQUE SNUG FIT 250MM
GO KART 100CC EXHAUST SEALER FLEX SLEEVE SILICONE 45MM UNIQUE SNUG FIT 250MM
Superior Performance Tested

A Perfect Fit onto Your KTJ, ARC or KTS Pipe & KT Open Exhaust Systems.
Made for us to fit our 45mm exhaust systems used on 100cc engines.
Yamaha KT100, ARC Watercooled, KT100J engines benefit from this sealing and heat retention system 

Each sleeve is 250mm long.
Please note this size is not suitable for 125cc Exhaust System sealing.