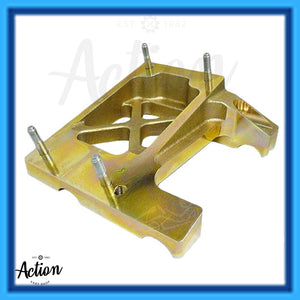 GO KART ENGINE MOUNT 4 STROKE MAGNESIUM LARGE OFFSET SUBARU BRIGGS TORINI
GO KART ENGINE MOUNT 4 STROKE MAGNESIUM LARGE OFFSET SUBARU BRIGGS TORINI
Made to fit the racing Subaru and Briggs & Stratton four strokes.
This is just the best of all engine mounts to fit up your four stroke engine.
All that is needed is 4 x M8 Nyloc Nuts and Flat washers.
The offset will allow inboard mounting of the clutch & Sprocket.
Engine Alignment is perfect.

 



It is the highest quality unit we have ever used.

Details of M8 Stud Pattern

Stud Centres are 80mm side to side .Stud Centres front to back are 160mm. 

The offset from centre of inside chassis rail to inside stud or engine hole is approx. 60mm

Front mount 18mm above chassis rail. Back mount 60mm above the rail.
This mount will clamp a 28mm chassis securely and made to suit a 30mm chassis.
This set complete is less than 800 Grams
SUPPLIED WITHOUT MOUNT CLAMPS OR BOLTS

This mount uses two M10 High Tensile Cap Head Bolts to secure your engine to the chassis rail tubing.
A complete mount of this style is as good as it gets. 

Sold in all quality Kart Shops for around $299.00
Buy it Now Do it NOW and I will thank you kindly for your support,Thanks David