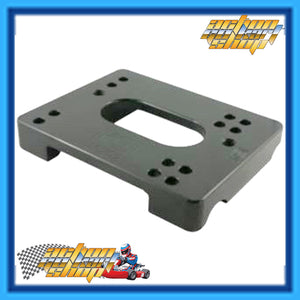 Go Kart KSI Black Flat Engine Mount Only Pre-Drilled
FLAT ENGINE MOUNT BLACK Pre-DRILLED 28x90 28x92 30x90 or 30x92 KSI
ONE PIECE FULLY MACHINED  BILLET 

THE STRONG ACCURATE ENGINE MOUNT
Please indicate which size layout you need at checkout
or 

Email us which Mount is needed. (SEE BELOW)

28mm x 90mm Centres for Arrow & CRG Etc.

28mm x 92 Centres for OTK PCR Etc.

30mm x 90mm Centres

30mm x 92mm Centres

The Strong one piece mount to eliminate the twist that will slow your engine.
Suit Chassis 28mm or 30mm x 92mm or 90mm rail centres.
Best Quality Fully Machined.
Note : Supplied without clamps and bolts.