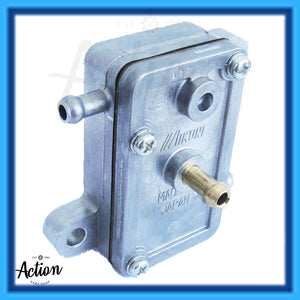 GO KART ROTAX MAX FUEL PUMP GENUINE FACTORY PART
GO KART ROTAX MAX FUEL PUMP GENUINE FACTORY PART
Made for all Rotax FR125 Max engines including Junior.

They also suit all 4 STROKE Engines.
And all the endurance kart four stroke engines and fun kart engines. 

We also supply the Repair Kit, please ask us.
Mikuni Genuine Vacuum Pultz Pump.
Rotax  Snr/Snr Max Fuel Pump Part Number : 994483
This single outlet Mikuni fuel pump is flush mounted. 

Maximum flow rate is 14 Litres per hour.
An excellent replacement for ant vacuum (pultz) type fuel pump.
Suitable for Superkart engines, Speedway Dirt Kart Racing.
Used on many Snowmobiles and ATV's
THESE PUMPS ARE ROTAX FACTORY SUPPLIED UNITS ON:
Rotax DD2 125cc, Rotax Max 125cc, Rotax Jmax 125cc, Rotax Mini Max 125cc
& 

Rotax Micro Max 125cc