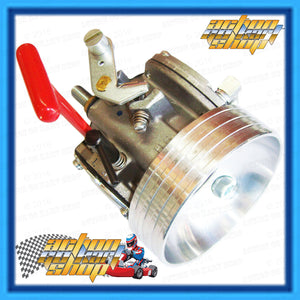 HURST H6 BLUEPRINTED CARBURETOR WALBRO YAMAHA PERFORMANCE UPGRADE
GO KART CARBURETOR 
HURST H6 BLUEPRINTED  WALBRO YAMAHA 
This new model was tested on the Soft Engine dyno is 2017 against all other modified Walbro carburetors by well known suppliers.
And yes it still came out on top.
Some competitors carby's were down on HP by as much as over one Horsepower.
The better alternative models were only short by half a HP.
We have sealed the High Pressure circuit better than before.

 



Re-Adjusted spring pressure for improved delivery in the mid range.