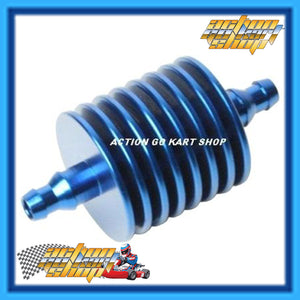 IN-LINE FUEL COOLER BLUE COLD FUEL MORE POWER MULTIPLE UNITS COOL BETTER
GO KART IN-LINE FUEL COOLER BLUE COLD FUEL MORE POWER MULTIPLE UNITS COOL BETTER
The inlet/outlet on these coolers are approximately 4mm or 3/16 inch
Fit it in your fuel line

 

in a cool air stream

 for the best performance.

These can be coupled in pairs or more for extra heat exchanging.

Do you get fuel

 

starvation or 

vaporization

 causing engine hesitation?

A must have

 

for warmer areas over 20 degrees 

Celsius

.

An in-line cooler system guaranteed to save your power decline due to overheating.

This Cooler does not replace the fuel filter.

We prefer to connect it in the fuel line after the filter.