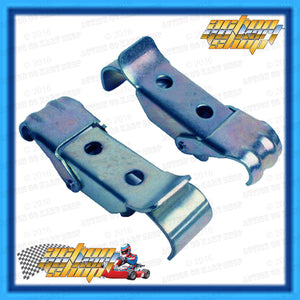 NOSECONE CLAMPS EXTRA STRONG BEND RESISTANT BY KG ITALY
GO KART NOSECONE CLAMPS EXTRA STRONG BEND RESISTANT BY KG ITALY
These are a stronger set of Nosecone Clamps made with strengthening ribs on the hook sections to stop them bending. 
A feature not included on weak inferior brands. 
Please see the other BADLY MADE type clamps without the reinforced ribs on the upper curved section. They bend and will not hold.

We know as we did start to sell them. But dissatisfied customers told us no thanks to those go kart clamps very soon.

Rust proofed silver zinc plated

Do you need a set of Clamps to fit your Nosecone

See the picture it will show you the best clamp set available