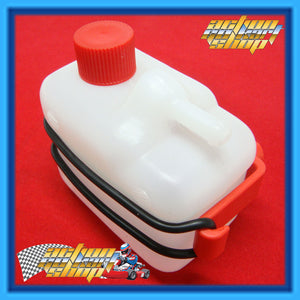 OVERFLOW BOTTLE + MOUNT BRACKET FOR FUEl, OIL OR WATER APPROX. 150ML
GO KART OVERFLOW BOTTLE + MOUNT BRACKET FOR FUEl, OIL OR WATER APPROX. 150ML
A small go kart catch bottle used to prevent fluids from spilling onto our race circuits. These are a compulsory item for bitumen track surfaces. For fuel tank overflow they are usually mounted under the Nassa panel on the top support bracket. Sometimes mounted directly onto the Nassa Panel.
Here we also supply a mounting bracket for this bottle. You can buy one or more here just change the quantity to the number your require.
Used on watercooled go kart engines to catch excess water, oil or radiator coolant.
 Width = 48.5mm
Length = 78mm
Height Total = 75mm