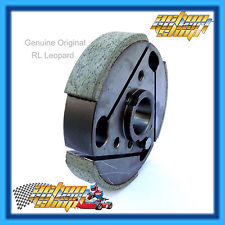 RL LEOPARD CLUTCH SHOE HUB STRONG RELIABLE GENUINE ORIGINAL
GO KART RL LEOPARD CLUTCH SHOE
This is the only clutch shoe assembly made for your engine. When installed correctly it will give you very good long life service.
Do's and Dont's
Do clean the crankshaft with very fine wet or dry paper to ensure there is zero residue from the previous locking solution.
Do hold the crankshaft securely with a piston stop tool before you tension all the locking bolts.
Do ensure after tightening that the new clutch shoe hub runs true to crankshaft centre line.
Do make a practice of removing the sprocket drum every 2-4 race days and clean the clutch with brake clean or thinners.
Don't ever push another kart to get it going.
Don't hold your foot on the brake while you drive away from a stopped position.
Don't use a steep uphill incline to drive away from a standing start.