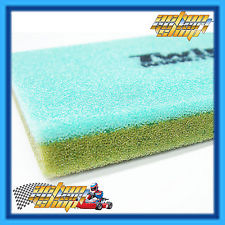 ROTAX MAX AIR FILTER GENUINE GREEN DUAL LAYER ALL MODELS EVO Inc.
ROTAX MAX NEW GREEN FINE GO KART AIR FILTER
The genuine fine air filter gives you the best performance from your Rotax Max or J-Max engine.
Please do not guess or take the word of a fellow competitor as to which filter to use. 
Just get the best go kart filter and work on other areas of your racing setup.
This filter comes pre-wetted with quality foam air filter oil from the factory.
 Our dyno test do prove what the Rotax factory already know.
The cost is the same as a Coarse filter available. 
THE BEST CHOICE FOR YOUR GO KART
Filter Size
Length = 200mm  Width = 130mm  Thickness 20mmm