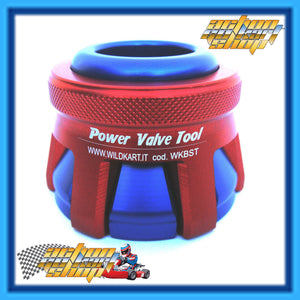 ROTAX MAX POWER VALVE BELLOWS SPRING MOUNTING TOOL ALL METAL WILDKART
Go Kart Rotax Max Power Valve Spring Mounting Tool
The Best and safest unit available anywhere. From Italy not China
You will know how handy these tools are for the large strong Power Valve Spring. And you will probably have heard that they are also very useful at the track when you have that new PV Spring to replace.
 But did you know that we are also using them now in the workshop. Yes they are so handy when it comes to servicing and maintaining your Rotax Engine go kart Power Valve.
REMEMBER THAT ANY OTHER METAL TOOL USED TO TRY AND FIT THIS SPRING WILL PROBABLY DAMAGE THE DELICATE PISTON OR BELLOW RUBBER YOU ARE FIXING.