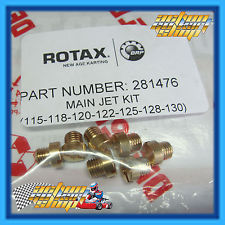 ROTAX MAX SEVEN MAIN JET SET 115, 118, 120, 122, 125, 128, 130
GO KART ROTAX MAX SEVEN MAIN JET SET 115, 118, 120, 122, 125, 128, 130 
Set of Rotax Main Jets that will allow you to get the exact tune needed for smooth powerful use of your engine.
These jets are specifically made for all Rotax Max 125 go kart engines. Also suit the Rotax Junior Max engine & Mini Max models.
The seven most popular sizes include the 115, 118, 120, 122, 125, 128, 130 and the 130 jet for very high pressure days with mild temperatures and low humidity.