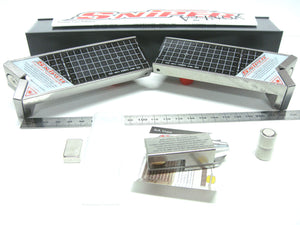 SNIPER TWIN LASER KIT V2 INOX FRONT WHEEL & SA INOX SPROCKET ALIGNER
GO KART SNIPER TWIN LASER KIT V2 INOX FRONT WHEEL & SA INOX SPROCKET ALIGNER
In this go kart package you get a set of TWO new Sniper V2 Wheel Alignment Lasers that suit stub axles up to 45mm diameter. And the very effective Sniper SA Laser Sprocket Aligner.
You will never ever miss the correct measurements with you wheel aligner or the Sniper Sprocket Aligner. These units just save you wear and tear on your go kart. When the chain alignment and wheel alignment is perfect the net result to you is faster lap times and a saving in chains and tyres. It is a win win for your racing progress.
Also included:
2 x Spare Wheel Aligner Batteries
and
1 x Rule for centering your tie rods prior to steering alignment.
and
1 x Neat plastic carry box for the entire setup
plus
1 x Sniper Sprocket Aligner
AUSTRALIAN PREMIUM DEALER
Good Stock Quantity of all Sniper Products Always Available