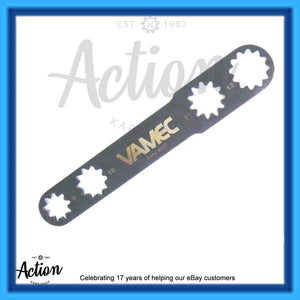 SPROCKET HOLDER CHANGING TOOL 9 - 12 TOOTH ROTAX X30 CLUTCH DRUM LEOPARD
GO KART SPROCKET HOLDER CHANGING TOOL 9 - 12 TOOTH ROTAX X30 CLUTCH DRUM LEOPARD
FOR ROTAX AND ALL OTHER ENGINES

 



9 - 12T

We offer an unconditional money-back guarantee on everything we sell.
The easiest way to hold your sprocket drum to replace the engine sprocket. It makes an almost impossible job able to be done in a couple of minutes.
Just hold the sprocket tool in a vyce and put your sprocket drum with the sprocket down into the correct sized holding slot. Then take your 38mm socket and wrench to unscrew the holding nut.
Remove the worn or wrong size sprocket from the drum. Fit the right sized or new sprocket into the drum. Using a drop of loctite on thread start replacing the nut.
 Put the new sprocket back into the holder and firmly tighten that nut again. Ensuring that the locating pin was securely located in its hole.