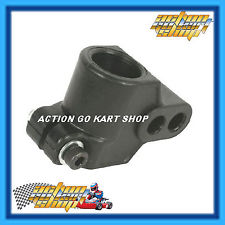 STEERING LOCKING BUSH WHEEL ALIGNMENT AID
LOCKABLE NYLON GO KART STEERING BUSH
This steering bush will suit all karts that have a 20mm steering shaft.
Most of the EUROPEAN Made Go Karts will have one of these Steering Shafts.
The locking device is there to allow you to keep the Steering Shaft still while completing the wheel alignment.
A fixed steering shaft with your steering wheel centered is a must have during and wheel alignment adjustments
Please note your go kart items are Free Postage.
Also Available
in a
19mm size for all AUSTRALIAN Made Kart Models.