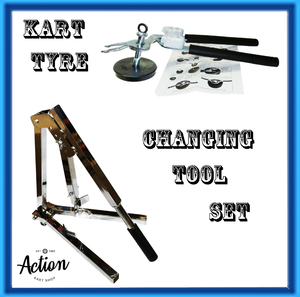 TYRE BEAD BREAKER & TYRE CHANGE TOOLS TONGS EASY FITTING & REMOVAL KIT
GO KART TYRE BEAD BREAKER & TYRE CHANGE TOOLS TONGS EASY FITTING & REMOVAL
Our Kart Tyre Bead Breaker and Kart Tyre Tongs allow you to do the complete tyre changing job independently of the kart shop.
With just a short practice time you will quickly and easily break the bead of your kart tyres.
Use the tyre changing tool to remove and refit your tyres like it is natural.
 Please note that these tools are designed for use with 5" diameter kart wheels.
Always remove any Bead Lock Screws first