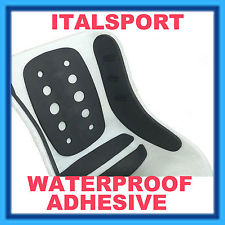 WATERPROOF SEAT PADDING 10MM HIGH DENSITY SELF ADHESIVE SET
GO KART WATERPROOF SEAT PADDING 10MM HIGH DENSITY SELF ADHESIVE SET BEST
This Seat Padding is perfect to stop you moving around in the kart seat.
Reduces seat vibration

Easy to install, just remove the adhesive cover paper and align it with the seat curves.
Press it down firmly and it will never move NOT EVEN IN THE RAIN.
There are five pieces per pack so you will feel comfortable all over your seat.
This Seat Padding is High Density Foam 10mm Thick.